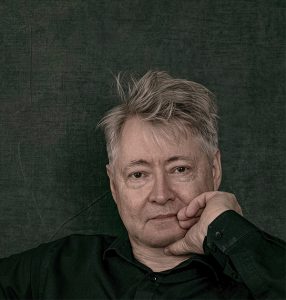 Picture of Markus Lehr by Uwe von Loh ©2019.
MARKUS LEHR (*1959) studied communication at the University of Arts in Berlin and has
been working in the field of marketing and new media ever since. Several notable international
publications have featured his pictures. His work was published in a first book in December 2013,
followed by two others in 2017 and 2018. The artist showcased his images at solo and
group exhibitions in Germany, France and the UK. He lives and works in Berlin.
Among the artists who influenced him the most were Jeff Wall, Cindy Sherman and Stephen
Shore, but he was also deeply impressed by the films of Michelangelo Antonioni such as "Il
deserto rosso" and "Blow up".

Grant about Markus:
Selected exhibitions and publications
Duo exhibition with Grant Simon Rogers: Mise en scène, Atelier André Kirchner, Berlin, March – April 2020
Duo exhibition with Toru Ukai: Tokyo Meets Berlin – A Tale of Two Cities, LA CAMERA CHIARA, Berlin, August 2019
Solo exhibition "Occasionally surprising", Museum der Unerhörten Dinge, Berlin, March 2019
Book release "China – Everything happens at the same time", Berlin, November 2018
Group exhibition: "Preparing for Darkness", curated by Marianne Kapfer, Kühlhaus Berlin, May 2018
Solo exhibition: "China – Everything happens at the same time", LA CAMERA CHIARA, Berlin, April 2018
Camera Infinita, Lisbon, Portugal releases "Insomnia – Night Takes Berlin", Photobook, June 2017
Group show, Reclaim Photography, Long Gallery and Wolverhampton Art Gallery, April 2016
Solo exhibition, McKinsey & Company, Inc., Munich, January 2016
Group exhibition, Berlin photography, Gallery Carpentier, Berlin, January 2015
Notes from the rust belt, Series of pictures about the Ruhr area, June 2014
Fairytales and Nightingales, Photobook, December 2013
BEWAREXHIBIT, Paris, Group exhibition, October 2013
Publikumspreis of the German Architects federation, November 2012
More information on the artist's website: www.markuslehr.photo